Showers
Say goodbye to cleaning grout lines and boring single piece shower walls. Epoxy shower walls created out of MDF panels is low maintenance and beautiful way to refinish your tub or shower surround. Because FX Poxy will be completely seamless and water proof, you will not have to worry about any water damage and cleaning will be easier than ever.
Shower Walls and Tub Surrounds Shower panels built on MDF or MDX then placed directly over the existing walls. This is a fast and simple way for you to refinish your shower or tub without making it into a major job. On average you will spend $298.99 including shipping on tub to ceiling shower panels. Keep in mind the panels are coated horizontally and installed vertically after the epoxy was dry.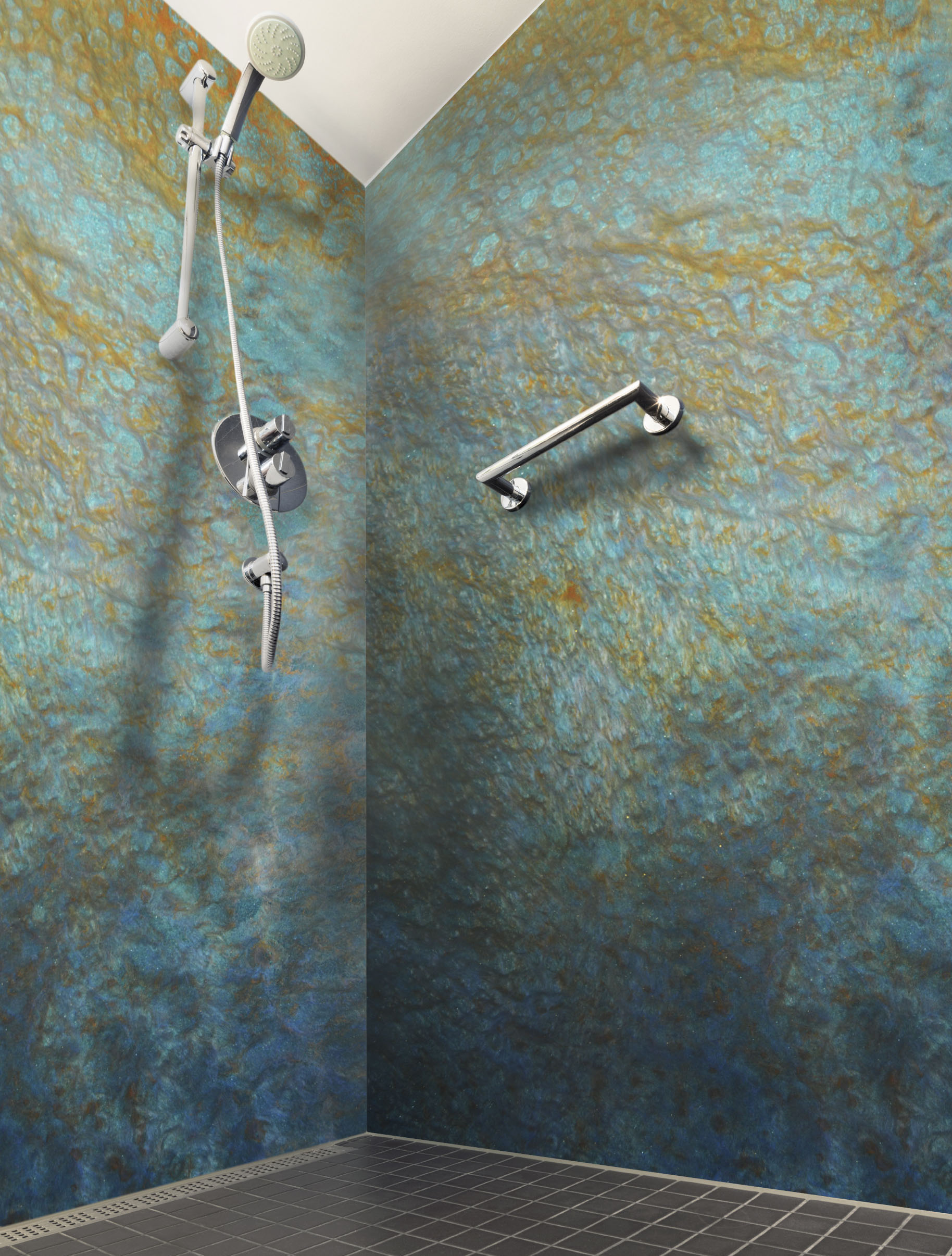 DURABLITY

Heat resistant up to 500F degrees (260C), five times stronger than concrete, and shock resistant meaning you can drop something heavy on the surface and it will not break.

CUSTOMIZABLE

Endless design and color choices for the same price. Match your home's interior with many different color combinations.

UV RESISTANT

Will never fade or yellow from the sun and can be used on outdoor bars or other surfaces.
FOOD SAFE

This antimicrobial surface will not trap germs and is more resistant to staining. It is easy to clean and great to safe to cook and eat on.

FX poxy coverage

gallons=50-60 sq ft
gallon=20-25 sq ft
quarts=10-15 sq ft
quart=5 sq ft

Amazing rich 3D color designed by you Seamless

Temperature resistant up to 500 degrees

Zero VOC or 100% non-toxic (safe for food)

Anti-bacterial (which makes it great for bar tops and counter tops) Stain Resistant

Very scratch Resistant

UV resistant (it stays clear and does not yellow even out doors)

substrates you can resurface

Formica
Laminate
Concrete
Granite
Marble
Tile
Butcher Block Style
Reclaimed Wood
Plywood or MDF/MDX
....And many more

Easy and Effective resufacing

Removing tile can be very costly and time consuming. In the end it costs more to get the floor workable or ready for another surface. Sometimes the mess and time it takes to remove a floor makes it into a job yourself or your customers are not willing to do. When tile is layed under kitchen or bathroom cabinets this can become even more of a problem, do you fill the house with dust by cutting the tile off at the edge of the cabinets, or do you remove the cabinets? All these options are expensive take a lot of time and man power.

FxPoxy can be poured directly over the top of the old tile and it turns an expensive 8 day job into a quick elegant floor that is cost effective, and you don't need to break your back doing it.

More