Blog
Posted by Madison on
The best part about epoxy is the limit-less opportunities to create something unique, and custom to you every time. Even with something as basic as a countertop or a floor, the results are jaw-dropping. But you do not have to stop at countertops, you can epoxy almost anything! We compiled a few pictures to inspire your creative side.
Yes, that is an epoxied guitar. We mean it when we say you can epoxy almost anything! Got an old guitar laying around that needs sprucing up? Epoxy it!
This ceiling was in our old headquarters office. Done by using FX poxy on an MDF board then adhering the board to the ceiling. Amazing accent to any room!
Just when you thought the guitar was going to be the craziest thing you've seen epoxied… Make an awesome motorcycle even better with crazy epoxy colors!
This desk is in one of our offices. Geodes were cast into the epoxy, and a black light put in beneath to cause the glow at night.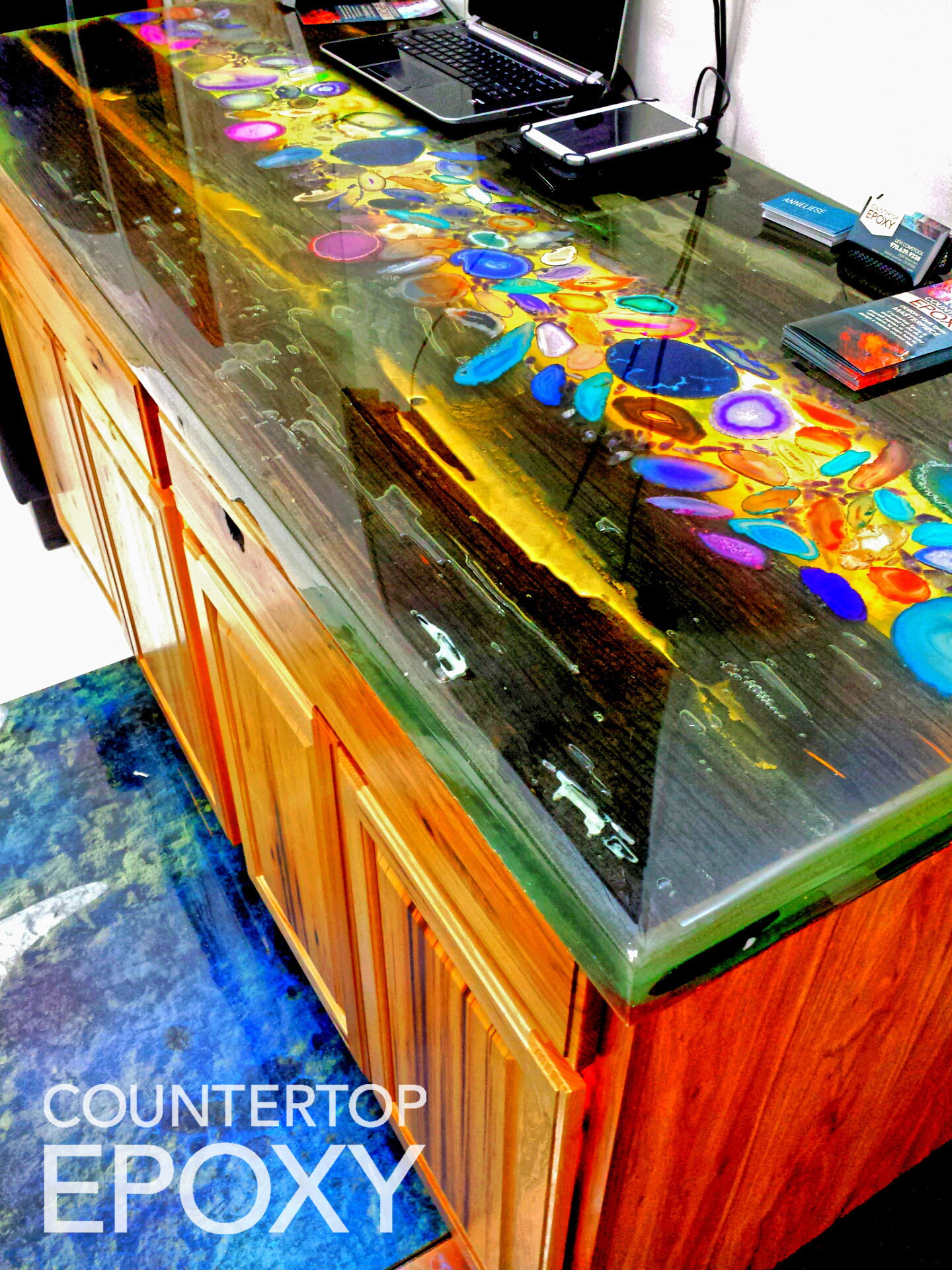 Did you know you can epoxy vinyl stickers and even paper? Here is the Harley Davidson logo epoxied to become a durable piece in your office or shop.
Want to epoxy a firepit? Not a problem! We love the accent epoxy give this otherwise boring fire pit. Not to mention the durability to protect the firepit from shoes, fire, marshmallow messes and more!
Casting wine corks is an awesome gift idea, and comes in handy as a table when the wine is spilled! Easy cleanup, and perfect conversation piece.
Epoxy is an extremely easy process that creates amazing results. With the help of our awesome team - ready to answer any questions you may have - and our step-by-step instructions, your epoxy is sure to come out looking incredible. Unfortunately, as with any project, it's easy to miss a step or make tiny mistakes [...]
One of the many benefits of FX Poxy that is sometimes overlooked is the antibacterial surface the this product will create once it is applied to your countertop. Because the epoxy is non-porous, no bacteria is able to get trapped underneath the surface. FX Poxy is 100% antibacterial and food safe. Many of our customers tell us [...]
This month we hosted our November Resin Workshop where we successfully implemented some subtle changes from how we did our classes in the past! We had an amazing turnout this month and I definitely think it's in large part due to how we altered the itinerary of the workshop!Previously our classes did not have options [...]
This infographic shows the comparison between all countertop materials that are on the market today.
Countertop Epoxy Epoxy Floor ReviewGeneral Overview:Having used this product for the first time, and having never poured any custom epoxy product before, I would highly recommend this for anyone desiring a unique and beautiful look for their home or business.I found the application to be simple with stunning results.When I'm considering any project I always [...]
What is FX Poxy?FX Poxy is a 100% solids epoxy that can be mixed with colors to create a completely customizable look for your home.Is FX Poxy non toxic?Yes, FX Poxy is a completely eco friendly product with no odor and is safe to eat off of. Is FX Poxy durable?Because FX Poxy is very [...]